What Tools do you need to Apply Micro Loop Hair Extensions?
More and more girls are now buying micro loop hair extensions. This is because they are very easy to apply and remove. Also, the small size of the micro loops allows you to attach the extension in areas which could not previously be reached. All our Micro Loop Hair Extensions are made of 100% human hair, so they can be styled and curled just like natural hair. Below we've written a guide on how to attach your own micro loop hair extensions.
As you can see from the picture below, the micro loop and the plastic pulling wire are already attached to the hair.
In order to attach the hair extension, you will need a pair of Micro Ring Pliers.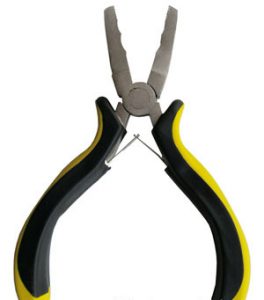 How to apply the hair extension
Take a section of a few strands of hair. This should be half the volume to the same size volume of the hair extension.
Place the loop on the hair extension on the micro ring pliers.
Place the strand of natural hair into the loop, pull the loop up the strand so your hair passes through the loop towards the scalp. Leave a small gap of around 1cm from the scalp so it's not too close.
Pull the loop so that the natural hair completely comes through the micro ring.
Use the pliers to flatten the micro ring and ensure it is closed. Be careful not to press too hard as this can damage the hair.
Although you can buy a tool and it is easy to apply and remove, be careful when doing it yourself. If there is a micro loop that is not clamped evenly and tightly, hair may fall out.